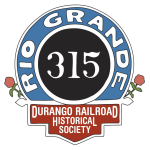 RAILROAD HISTORICAL PARK
When D&S sold the north rail yard, between College (6th) Street and 12th Street, except for its main line, our hopes for displaying our restored railcars in Durango disappeared. After pursing several possible sites along the D&S track in and north of Durango, the solution came via a joint vision of DRHS and the San Juan County Historical Society (SJCHS) to create the Silverton Historical Railroad Park.
The Park is centered on the SN engine house, oil shed, and track. Additional tracks will be added for displaying up to a dozen railcars and their interpretive signs. The SN oil shed will be reconstructed and rehabilitated for practical use by DRHS and SJCHS.
The Durango Railroad Historical Society and the San Juan County Historical Society are the principal partners. Other partners are the Town of Silverton (permission to place track on the Cement Street right of way), Durango & Silverton Narrow Gauge Railroad (permission to connect to their track and an easement for two display tracks and car shed on their property), Galloping Goose Society of Dolores (permanent loan of track and ties), and City of Durango (first, permission to store Locomotive 315 in Silverton, then transfer ownership of the 315 to DRHS).
THE VISION
Silverton Northern (SN) engine house as storage and maintenance facility

Three blocks of reconstructed SN track along for Cement Street for use in testing the 315 and temporary use in displaying railcars

Full restoration of engine house with insulation, heat, electricity, water, bathroom (State Historical Fund supported assessment completed).

Outfitting a metal shop and a wood shop at the back of the engine house

Reconstruction of the SN oil shed as a combined office, library, conference room, break room

Use of the engine house also as a museum for displaying railroad artifacts

Double display tracks in a line between the SN engine house and the D&S depot

The rail yard as a private yard, not open to commercial use, per agreement with the Colorado Public Utilities Commission

Raised platform at car floor level between the double tracks

Shed over the double tracks and platform to protect cars from sun, rain, and snow

Easy access to the public with path between engine house and depot, including ramps to the platform for wheelchairs

Interpretive signs on platform about history and significance of each car

Interpretive sign about the development of ancient trails to railroads and vehicle roads

Interpretive sign about the four railroads that served Silverton

Extra cars beside engine house for storage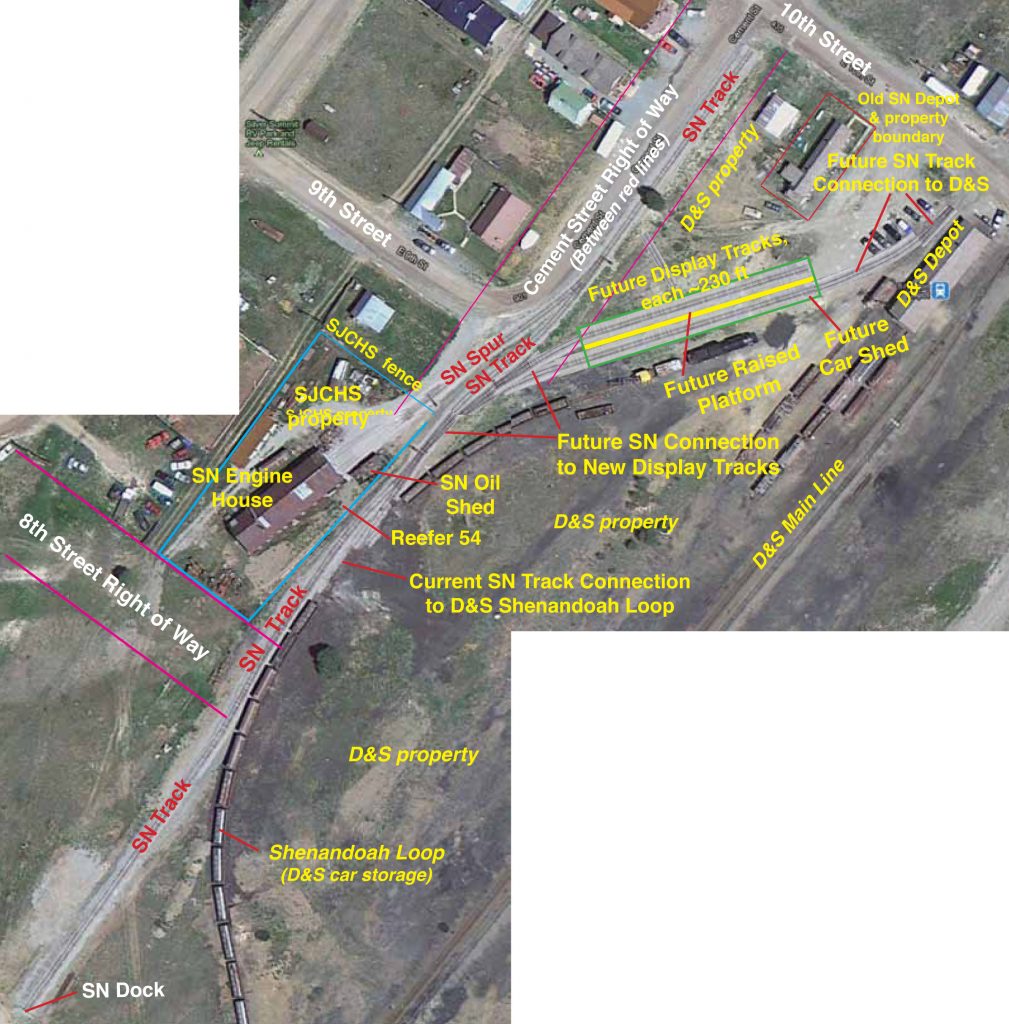 LEAD ROLES
DRHS leads projects dealing with tracks, car shed, platform, 315 operation and maintenance, D&RGW railcars restoration, and interpretive signs.
SJCHS leads projects dealing with SN engine house restoration, SN oil shed reconstruction and rehabilitation, SN railcars restoration, and Silverton Railroad (SRR) railcars restoration.
STATUS OF RAILROAD PARK
COMPLETED
SN track and spur along Cement Street, with dock

SN engine house track and service pits

SN engine front foundation and railroad doors

Easement with D&S for display tracks and car shed

Reefer 54 placed beside engine house for storage
FUTURE PLANS
SN oil shed reconstructed as office, library, conference room, break room

Restore Reefer 54 body cosmetically and add shelving for storage

Double SN display tracks between SN engine house and D&S depot for twelve railcars

Raised platform with interpretive signs between display tracks

Car shed to cover twelve railcars

SN engine house restoration completed as a living museum

Short storage track on easterly side of SN engine house for 3–4 railcars
All these projects are equally important in preserving our fragile railroad history. Please consider supporting us financially either by becoming a member of the DRHS or by making a donation of your choice via PayPal. We carry no administrative charges and ALL donations go directly into our restoration projects.