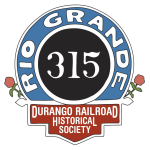 D&RGW REEFERS 39 & 54

About a decade ago the Durango Railroad Historical Society had given up hope of finding a refrigerator car (reefer), especially a 30-ft version. Those that were known of were either in the hands of organizations and even those that had more than one were not prepared to sell. As far as we could tell there were no other survivors. How wrong we were.

Then in 2013, Tom Necchi, a Durango narrow gauge enthusiast, told DRHS board member Duane Danielson about his friend, Grant Houston, who had searched for reefers in the San Luis Valley with his father many years ago and met with success. Duane contacted Grant, who then gave him a list of numbers and locations and offered to help with the search.

So in October Grant led Duane and fellow DRHS member, Dennis D'Alessandro, on a tour of the same reefer sites that he and his father had discovered many years ago. They found seven reefer bodies with no trucks or undercarriages. Five were sitting on the ground,so their sills had rotted away. Nearly all had deteriorated from lack of paint and other maintenance. However, two reefer bodies were gems although they too had been stripped of trucks and draft gear. Ron Pleasant and Steve Meyer of Pleasant Western Lumber Company in Monte Vista had them under a roof and on blocks as part of a building for 57 years. Only one side of each car was weathered; they formed the two outside walls of a storage building.

In a special effort Duane initiated and completed a special funding campaign that raised the funds to purchase the two reefers and move them to Durango. It was successful enough even to purchase some parts for the undercarriage.
We bought the cars in April 2015 and transported them to Durango. Reefer 54 was then transported to Silverton and placed beside the Silverton Northern engine house in Silverton where the body will be restored and the car used to store parts and supplies. Meanwhile work on 39's undercarriage and trucks is underway and we have appleid for a State Historic Fund grant to fund the resmained of the restoration.
Text and Photos by Duane Danielson.