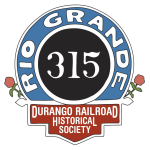 WELCOME TO THE HOME PAGE OF THE DRHS.
UPDATE 8/16/16 – D&RGW BUNK CAR 04432 ARRIVES IN SILVERTON.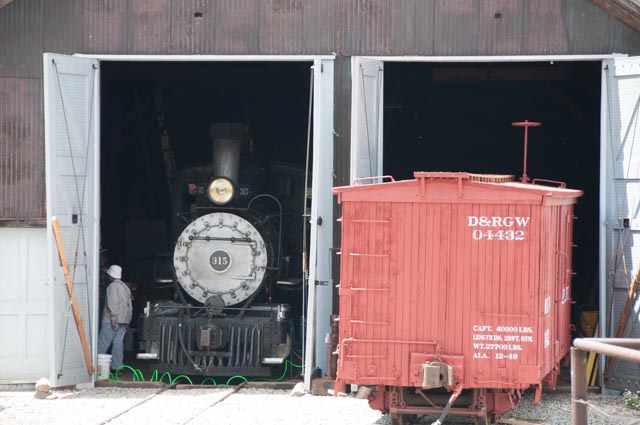 D&RGW Bunk Car 04432 stands alongside the 315 outside the SN engine shed. (photo: Anna Gibbs)
Good progress on the ex-D&RGW Bunk Car 04432 has meant that we were able to move the car from its work site, south of Durango, to Silverton. It will be used to accommodate the crews working on the 315 specials this weekend. The car arrived in Silverton of the 8/15/16. Some work remains to be done but it's hoped that by the first snows of the winter the Bunk Car will be complete. For more details about the cars progress click HERE.

UPDATE 8/16/16 – D&S RAILFEST 2016 – 315 TRIP TICKETS AVAILABLE ON THE DAY.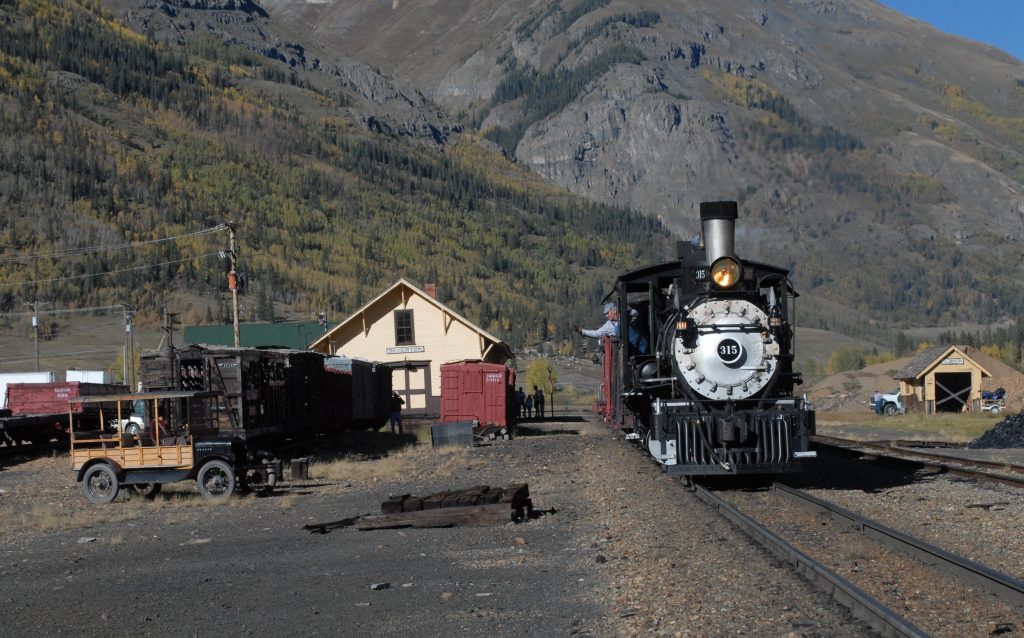 D&RGW 315 is star attraction at this years D&S RailFest. (photo; Mark Kasprowicz)
As 'RailFest' returns to the Durango & Silverton NG RR in Silverton, CO this weekend, tickets are still available on line from HERE.
Tickets will also be availble from the DRHS stand in Silverton as well as the D&S depot in Silverton. For a full schedule of 315 runs on the D&S go HERE

The 315 also runs on the Cumbres & Toltec Scenic RR during the Narrow Gauge Rendezvous on 26-28 August accompanied by D&RGW Mudhen #463 and RGS Geese #5 and #7. Photo specials will run between Chama and Cumbres and will include a special Pile Driver OB demonstration on the Sunday. Registration started on June 16th. For prices, schedules and more details click HERE.
7/21/16 PROGRESS UPDATE.
OIL SHED
Last week we poured the concrete stem walls and removed the forms.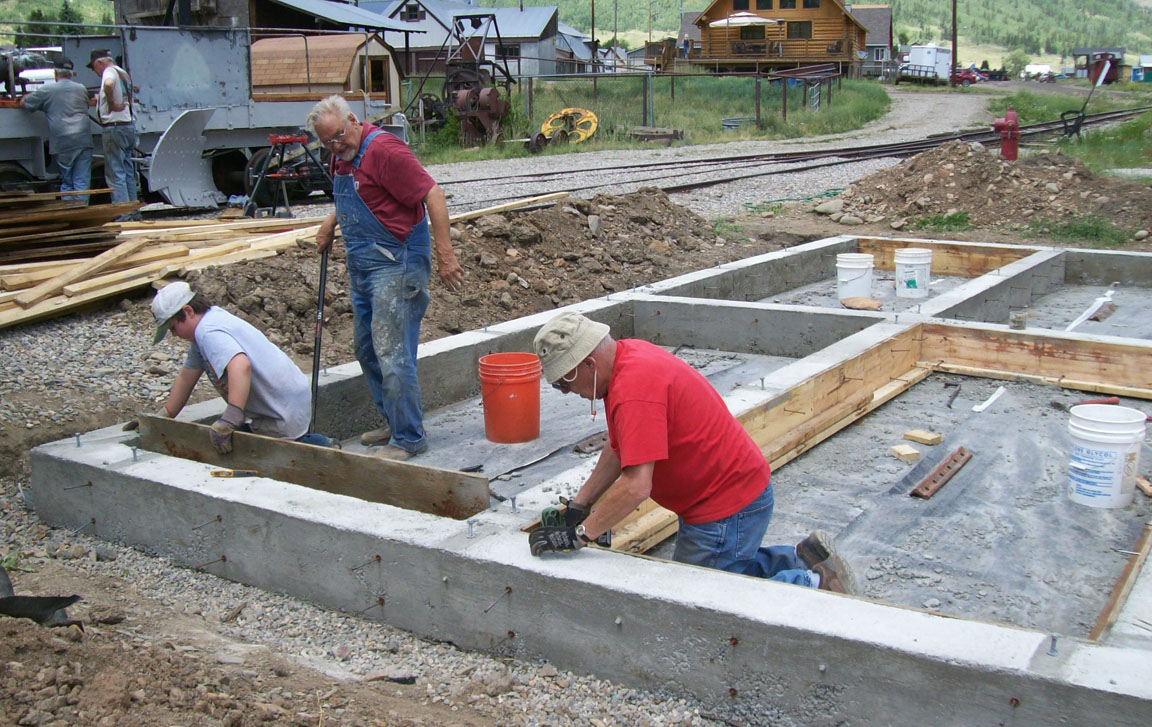 July 14. Joe Weigman, Jerry Hoffer, Ron Schlueter, and Judy Schlueter (taking the picture) removed forms from the oil shed foundation. In the background George Niederauer and Duane Danielson are working on the flanger.


8/16/16 – GET INVOLVED! DRHS WORK SESSIONS – SEPTEMBER HELP NEEDED.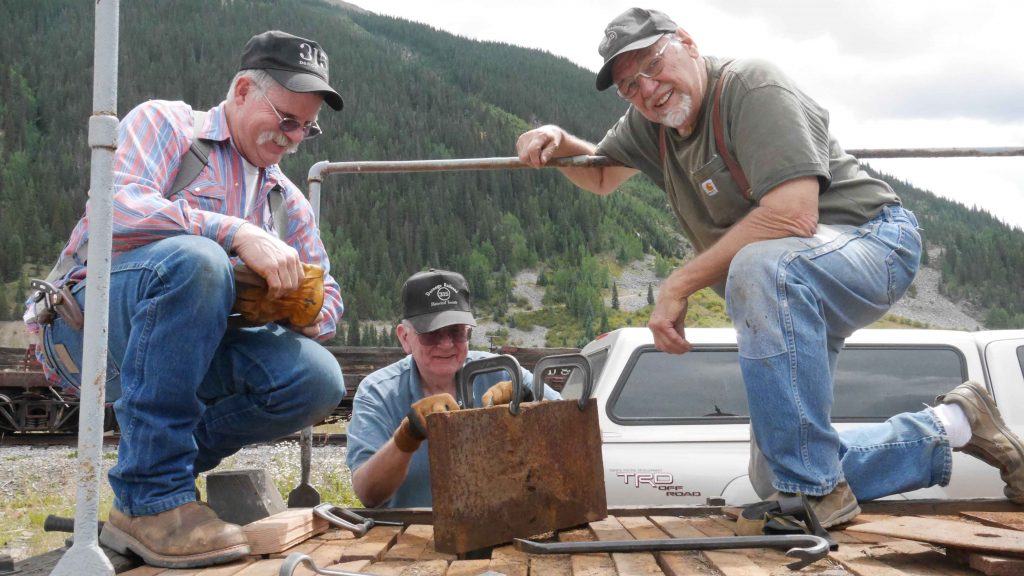 (L to R) Gene Lincoln, Duane Danielson and Jerry Hoffer pull the first 100lb weight out of Flanger OT during a recent work session.
For the first time we've been running week long work sessions in Durango and Silverton. Three sessions have already taken place and the fourth, in September, to put the finishing touches to our two stock cars is still looking for volunteers. All skills are needed
If you want to help you'll find details and registration forms HERE.
BECOME A MEMBER. JOIN NOW
CONTACT US HERE
And here are some of our projects….
[easyrotator]erc_25_1435492416[/easyrotator]