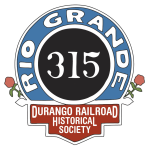 RESTORING D&RGW 315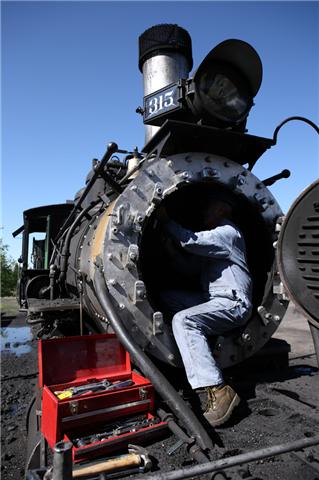 DETERIORATION
1940s: D&RGW wrung the last life out of 315. Nearly all moving parts were worn out from years of service.

1950: D&RGW removed generator and air compressor and added movie props – funnel stack, kerosene headlight, long cowcatcher, and pin-and-link coupler – for display.

1955: For

Around the World in 80 Days

, inside walls of the tender were cut out to make room for a steam generator, rear portion of the tank was made into a fuel oil tank, and the rear cab wall was cut out for camera access. Over the years many parts disappeared: windows, doors, appliances.

1995: Collapsed cab roof was replaced with non-historical steel frame and plywood covered with asphalt roofing.
RESTORATION POLICY
Restore as a road engine as it appeared in 1940.

Use original parts as is or restored when feasible; otherwise, purchase antique parts; and lastly, replicate parts.

Use historical materials and construction techniques, but modern coatings and lubricants to help give it for a long life.

Modify to meet Federal Railroad Administration (FRA) regulations for operation.
BOILER
2001–02: stripped off jacket and insulation to inspect bare boiler, measured thickness ultrasonically, and tested under pressure. Good results.

2002–04: cut out flues, cleaned and inspected interior, tested metallurgy, and calculated structural strength. Result: boiler could operate at rated 160 psi.

2003–04: reconstructed the tender frame with oak end sills and Douglas fir longitudinal sills.

2005–06: reconstructed the cab with white ash.

2005–06: added piping and appliances to boiler. Official test to 200 psi in May 2006. Boiler approved for operation.
WOOD
All wood was rotten and structurally unsound, or missing. It was replaced with new wood of same kind and construction.

PARTS & APPLIANCES
Every moving part had to be refurbished. Critical parts were replaced, e.g., all bronze connecting rod bushings. All axle journals and crank pins were turned on lathes at the D&S shop.

The few appliances that remained were restored. Antique replacements were purchased for most of the missing ones. New patterns and castings were made for broken or missing parts, notably, fire door.

High pressure steam lines were replaced for safety. Much piping was purchased to put back missing lines. All valves were substituted with new ones.

All electrical parts were missing.

The most critical work was aligning all the parts of the valve gear and running gear to produce a smoothly running engine.
STEAMED UP!
August 24, 2007: The 315 rolled under its own power  – first time in 58 years!

September 26, 2007: The 315 arrived in Silverton – first time ever!
COST
$450,000 in cash.

Thousands of hours of labor by over thirty volunteers.

Thousands of dollars worth of donated services and materials by about fifty firms and institutions.
ADDITIONAL RESTORATION
Although we had spent about 7 years restoring the 315, we discovered problems that have required more work, and each operating season seems to add more items to the list.
Replaced piping: branch pipes from injectors to boiler check valves, suction pipes between tender and injectors, most air lines on tender frame.

Changed size of netting (screen) inside smokebox and top of smokestack.

Replaced two leaking staybolts.

Alteration or replacement of other parts: crosshead oilers steam chest casings, brake feed valve, fire door linkage rods, boiler check valves, injector nuts, draw bar pin, brake line air valves, air cylinders for automatic fire door and bell ringer, engine brake cylinders, throttle valve, and steam gauge.

Replaced Chinese replica Westinghouse air compressor with genuine rebuilt Westinghouse unit.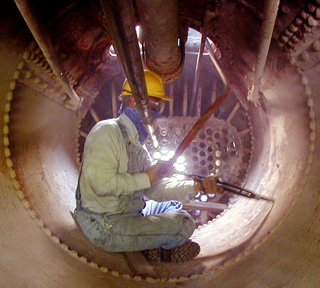 Removing scale from boiler interior with a needle gun in June 2003. PHOTO; Jim Granflaten




Removing the first longitudinal sill (beam) from the old tender frame in August 2003.  PHOTO; George Niederauer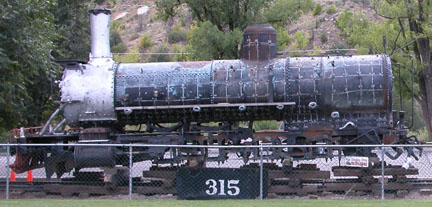 The boiler and frame sit on blocks in August 2005. The boiler grid is for ultrasonic testing. Wheel sets were taken to D&S shop for restoring. PHOTO; George Niederauer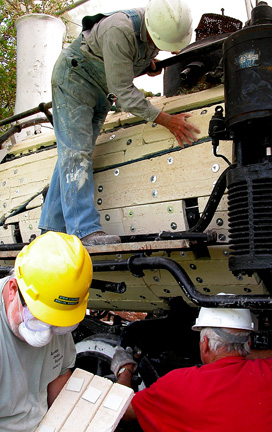 Installing boiler lagging (insulation) in May 2006. PHOTO; eorge Niederauer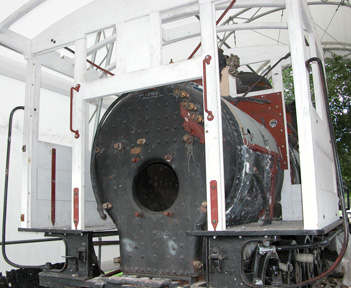 Cab structure bolts together and is held in place by strap bolts to the floor and braces to the boiler, August 2006. PHOTO;  George Niederauer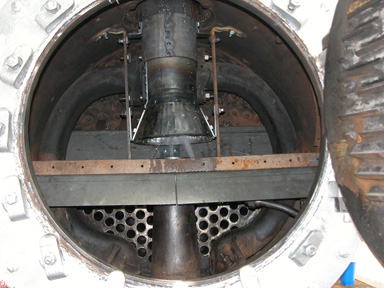 Restored interior of smokebox without the netting (screen) in July 2007.  PHOTO; George Niederauer