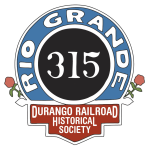 OBJECTIVES

The first objective of the Society was to restore the 315 to its physical appearance as a road engine during the 1930s to early 1940s era. The society essentially accomplished this goal in August of 2007, but a few details remain to restore.
The second objective was to bring the locomotive back to operating condition. The Society accomplished this goal by steaming up the 315 on August 24, 2007 – for the first time in 58 years!
The third objective is to provide information to the public on the historical importance of narrow gauge railroads in the history of Colorado, particularly Southwest Colorado. To this end, the Society has produced its first interpretive signs about the history and restoration of the 315, about Silverton's four railroads, and is working on signs for each of the freight cars undergoing restoration. It has produced a pocket brochure about the 315 and published a book about the history, restoration, and technology of the 315 with plenty of context relating to history of its railroads and operating region.
The fourth objective is to acquire and restore other narrow-gauge railway equipment.
The fifth objective is to create a historical railroad park for the display, restoration, and maintenance of the equipment. This is being done in conjunction with the San Juan County Historical Society and is centered on the Silverton Northern engine house and tracks in Silverton.
The sixth objective is to operate the equipment occasionally for the public. To this end the Society continues to maintain and repair the 315 and has run it on special occasions on the Durango & Silverton Narrow Gauge Railroad and the Cumbres & Toltec Scenic Railroad between Chama, New Mexico, and Antonito, Colorado.
Ever busy, the DRHS is currently investing their usual enthusiasm and hard work into new projects. Please feel free to join our group as a member, or simply to check back regularly on our website for current updates and events.