Whether you're a frequent passenger on the D&SNG or have the made the spectacular journey only once, now you can enjoy the ride again and again – without needing to dress for rain, sleet, or snow! The price is just $15.00 and as with all of our merchandise, all proceeds go to benefit the Durango Railroad Historical Society. The add-on will be Emailed to your PayPal address.
The D&S add-on route requires the Train Simulator 2016 game platform, available at
http://store.steampowered.com/app/24010/
. The Train Simulator 2016 package includes three international add-on routes. Users who acquired the simulator beginning with Train Simulator 2013 and later may need the contents of the US Community Assets Pack, which is available at http://store.steampowered.com/app/208306/ and the European Community Assets Pack, http://store.steampowered.com/app/208300/. Please note that the contents of these asset packs are bundled with several other DLC routes, so you might not have to buy them separately.
Please note this is not an automatic download. Our staff is all volunteer and are pretty quick off the mark but it may be a day or two before you receive your Train Simulator..
For all inquiries email us at
info@drhs315.org
or contact Jade at 970-749-3575.
Jade Masterson
FAQ's
1. How long is the route?
Same as the prototype: About 45 miles.
2. Do you have a screenshot of the route map in TS14-15, showing freight yards, sidings etc?
No map is available. The route has the same track layout as the modern-day D&SNGRR.
3. Is it just 1 engine (looks good) and if so, how many freight wagons, plus is there a Caboose etc., etc?
One engine (no 3D cab). Much of the rolling stock can be seen in this introductory video.
4. Is QD enabled, or is the (single) loco both simple and expert controls?
No QD. Loco has simple and expert controls. The D&S was developed prior to the advent of Quick Drive, and that capability has not been subsequently added. To our knowledge there is little if any rolling stock available that's suitable for a narrow gauge route like this. That said, there's nothing to prevent one from devising custom scenarios using any other rolling stock, including standard gauge. Might look a bit strange, though!
5. Will it run on TS2016?
Yes.
6. What happens if my Anti Virus (AVG) detects a threat? For example a couple times the Anti Virus (AVG) detects a threat and deletes a file from the Train Sim software and it stops working. The simulator then has to be reinstalled. Is this a common problem?
AVG will occasionally classify an unfamiliar application as a "threat." Usually AVG puts up a dialog that gives you the option to delete the application or to re-classify it as safe. In such a case one would select the Ignore option rather than the Delete option, etc. I haven't known AVG to automatically delete a file without asking permission, but there could be something in its settings that would allow this. Usually settings such as this are user configurable.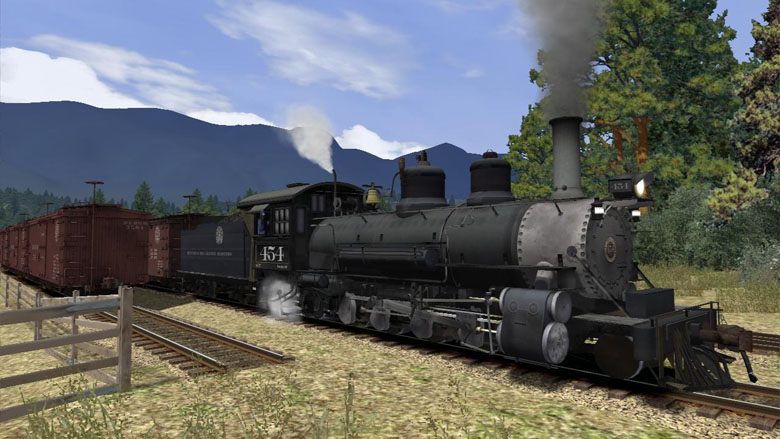 Minimum System Requirements –
OS:Windows® XP / Vista / 7 / 8, Processor: 2.8 GHz Core 2 Duo (3.2 GHz Core 2 Duo recommended), AMD Athlon MP (multiprocessor variant or comparable processors)
Memory:2 GB RAM, Graphics:512 MB with Pixel Shader 3.0 (AGP PCIe only), DirectX®:9.0c, Hard Drive: GB HD space, Sound:Direct X 9.0c compatible
Other Requirements: Broadband Internet connection, Additional:Quicktime Player is required for playing the videos
Train Simulator 2016 does NOT run on MacOS