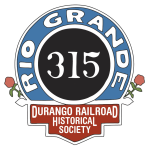 DROP BOTTOM GONDOLA D&RGW 871
HISTORY
Gondolas, second only to boxcars as the most ubiquitous railcars for hauling general freight, are symbolic in representing historic Colorado narrow-gauge railroading. Their roles in supporting the mining, railroad, agricultural, and construction industries contributed to the development of southwest Colorado. D&RG had about 3,111 gondolas of 22 different Classes or types. The 800 series, sisters to the 700 series, originally had slatted coke racks that raised their sides to the height of boxcars. In 1918 the coke racks were removed, 6-inch side boards were added, the lever systems were altered, and under frames were stiffened with steel.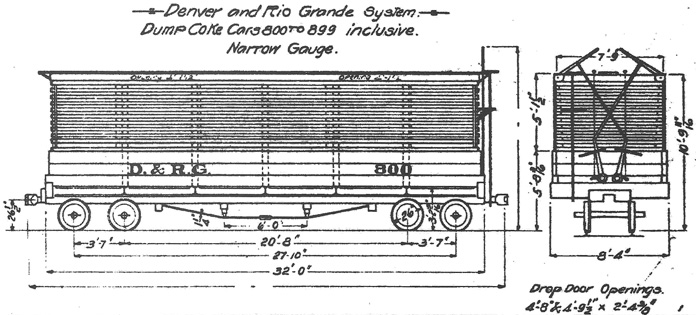 In 1904 the National Car Company built 100 of the 800 series, a Class 18, 12-ton drop-bottom gondola, to haul 25 tons. Drop-bottom gondolas carried bulk material such as ore, coal, coke, sand, ballast, and rock. The unique hinged unloading floors on these cars were activated by a complex mechanism of shafts, levers, and chains. Before drop bottom cars were invented, material was shoveled out by hand. A 1940 report shows all D&RGW narrow gauge drop bottom gondolas dated from these series. None of them have been used in southwest Colorado for decades, and none in the area have been restored. The cars are on the National Historic Registry, as part of the National Historical Landmark for D&S, which includes the entire railway from Durango to Silverton, along with buildings, locomotives, and rolling stock. For more details see A Century + Ten of the D&RGW Narrow Gauge Freight Cars 1871 to 1981, 2nd Edition, by Robert E. Sloan. Historic photos courtesy Colorado Railroad Museum.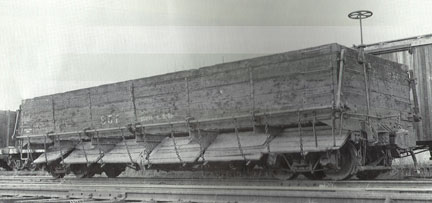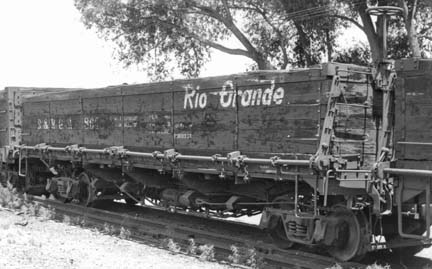 Drop Bottom Gondola 871 Before Restoration
Photos in August 2008 at D&S Tacoma siding by George Niederauer
.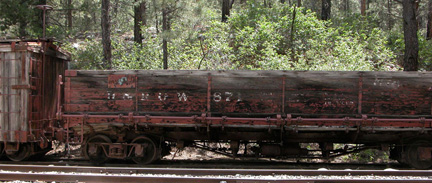 The sheet metal patch above the letters "D &" wraps around equally on the inside and covers up a hole burnt in the side from coal cinders.
The interior view shows the stationary center planks flanked by the series of drop doors. Vertical posts support the side boards.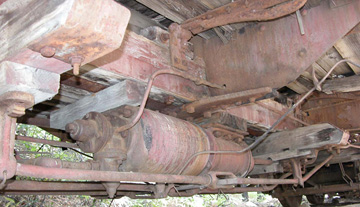 Bottom view near center, where the brake cylinder is attached on the right end of the air reservoir and the K-1 triple valve is attached on the left end. The center sills are steel channels sandwiched with wood beams. Steel plates supply lateral strength.
Lateral wood beams attached to the steel plates provide a means to attach other components. Cast steel queen posts hold the truss rods in place in the foreground. A brake cylinder push rod with a clevis is at center right.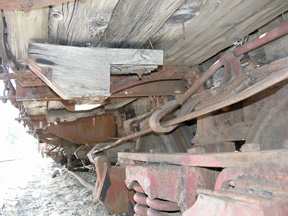 View along the bottoms of the drop doors. A door over a truck has a wood block (upper left) to limit its travel against the truck frame. Other doors have stops attached to the frame – the blocks with the angled ends.