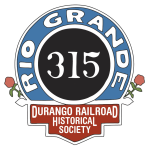 D&RGW BOXCAR 3670
Ordered in 1903, American Car & Foundry, St. Louis, built 750 boxcars of the 3000 series for $708.50 each. They were numbered 3000–3749 and started to arrive in 1904. They were 30 feet long and had a capacity of 25 tons, 5 tons more than the earlier 4000 series cars they replaced. The cars had greater interior height and larger door sizes and established a standard size car for shippers on the Denver & Rio Grande narrow gauge railroad [the D&RG became D&RGW (Western) after foreclosure and reorganization in 1921]. Some had assigned payloads such as flour, sugar, beans and even ore concentrates, and would only carry those products.
The cars had a tongue-and-grove board roof that had deteriorated to such a degree that the D&RGW rebuilt them in 1926 from the ground up, retaining the trucks and most of the metal fittings. Decayed wood was replaced with new, stamped steel Murphy roofs were fitted on top of the planks and new door hardware was added. Rebuilding the cars was preferable to buying new ones because of the tax saving advantages of the time.
Boxcar 3670 remained in service until about 1968, when D&RGW abandoned the main line from Alamosa to Durango. A large number of cars were sold for scrap to Floyd Reed Company in Alamosa, and Lindsey Ashby bought several, including Boxcar 3670, which he moved to the Georgetown Loop Railroad. About 2004 the car was moved to the Colorado Railroad Museum in Golden for storage. DRHS bought the car from him in 2014 for $10,000 and moved it to Silverton.
RESTORATION
Boxcar 3670 is fairly good shape because the body was protected by an intact metal roof. Fascia boards need to be repaired, and the condition of the running board on the roof is questionable. It is lettered correctly for the time period of the 1930s, but will need new paint anyway. Boxcar 3670 is one of a group of cars DRHS has applied for restoration grants from Colorado's State Historical Fund and if successful it it will be restored in 2017.