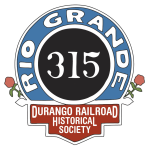 EMMA SWEENY – THE MOVIE
In 1949 Twentieth Century Fox produced the color film A Ticket to Tomahawk. The premise of the movie, set in 1876, was that to save the franchise of the Tomahawk & Western Railroad, a train must reach Tomahawk along with at least one paying passenger by a fast approaching deadline – and the stage line will do everything it can to prevent it. The problem is that 40 miles of track from Epitaph are missing, because the rails from England were lost at sea. The plan is to pull the train (just the locomotive Emma Sweeny) over the mountains with a team of mules.
Anne Baxter is the deputy marshal whose must protect the train. Dan Dailey is the reluctant paying passenger. Walter Brennan is the engineer, and Arthur Hunnicutt is the fireman. Rory Calhoun leads the gang that is supposed to stop Emma Sweeny.
Mary Loos and Richard Sale, wife and husband, avid railroad fans, wrote the script, and Richard Sale directed the film. San Juans filming took place over about six weeks during August and September 1949. The film premiered in Durango and Denver in April 1950.
This movie was the third made by Hollywood since it discovered the western San Juans in 1948. It is an important film for Durango and Silverton because it kicked off the surge of tourists who came to ride the Silverton train and view the beautiful scenery. The increased ridership saved the Silverton Branch from abandonment. D&RGW began advertising "You, too, can buy a ticket to Tomahawk." By 1952 eleven films had been made in the area, and Durango, already known as the "Narrow Gauge Capital of the World," also was called the "Hollywood of the Rockies."
THE REAL TRAIN
The 1899 Schenectady locomotive RGS 20 (4-6-0, Ten-Wheeler), originally F&CC 20, acted as T&W 1, Emma Sweeny. It was adorned with false funnel stack, long wooden pilot, link and pin coupler, oil or kerosene headlight box over the electric light with a set of six-point antlers on top, and a fancy and colorful paint scheme, including three-masted sailing ships on both sides of tender.
The train consist was RGS caboose 0409 lettered as "Route of the Bloody Basin Cannonball," D&RGW flat 1026, boxcar 3745, and combination car 212, all repainted and relettered. The train with RGS 20 was used in shots in Silverton, Animas Canyon, and on the old, wooden RGS trestle over Lightner Creek.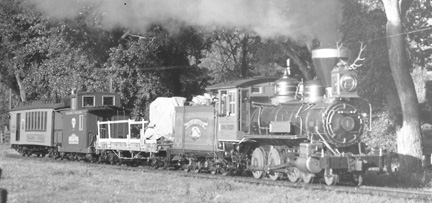 The movie train near Trimble Springs, a few miles north of Durango. The flat car was mainly used for the film crew, except during one of the last scenes in the movie, when it was crowded with Indians. Colorado Railroad Museum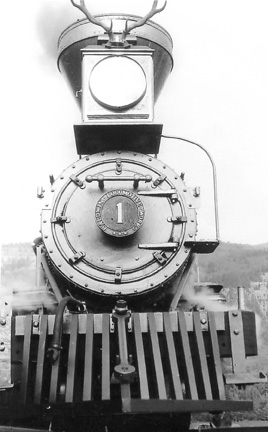 Colorado Railroad Museum
THE MODEL LOCOMOTIVE
The Twentieth Century Fox Prop Shop built the accurate, full-size model locomotive in the summer of 1949. It has a steel frame, with wood, fiberglass, and metal parts, and weighs about 18,000 pounds. "The model was so good, it could fool experts" exclaimed Hank Philips, retired fireman who worked as fireman on RGS 20 and was a stand-in for Arthur Hunnicutt.
Because the model had to be pulled, it has a steel frame, steel pipe axles, and iron rims on wood wheels. Most of the model is wood, but some parts are metal or fiberglass. For example, handholds, fire door, ladder, journal box covers, and several brackets are metal. The steam dome, sand box, and much of the boiler are fiberglass. Piping, pipefittings, and valves are real. The model, right down to rivets, was "so accurate it could fool the experts."
The model was used for shots off the tracks, pulled by mules along Blair Street in Silverton, on the airfield on Reservoir Hill (now Fort Lewis College) in Durango, and on the single lane gravel road at the top of Molas Pass. Then the model was taken back to the studio and used in camp scenes in October.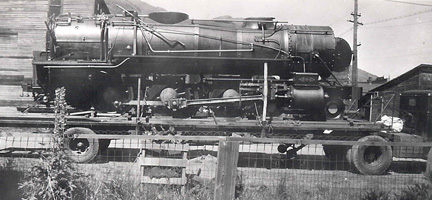 The full size model was built at the Twentieth Century Prop Shop, trucked to Silverton, with final assembly on Blair Street. San Juan County Historical Society



The engine model was positioned on Blair Street with a crawler tractor; a truck was at rear of the tender. San Juan County Historical Society



A large team of mules is ready to pull the model northward along Blair Street. San Juan County Historical Society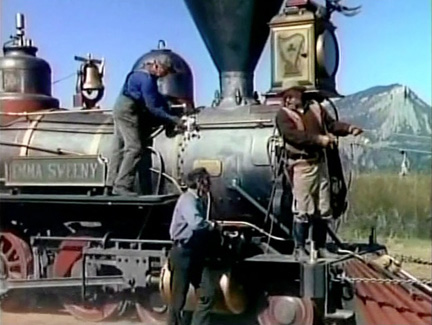 In Durango the model was pulled along the airfield on Reservoir Hill (Perrin Peak in background). Twentieth Century Fox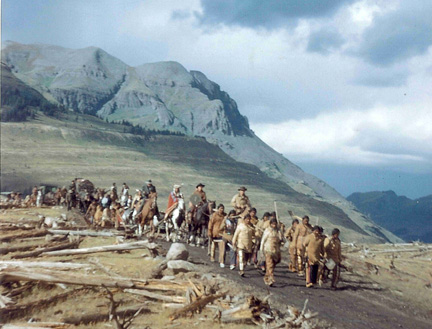 Somewhat disassembled, the model was pulled over Molas Pass, which was only a one lane gravel road at that time. As shown below several parts were hauled separately, making the locomotive fairly bare. Twentieth Century Fox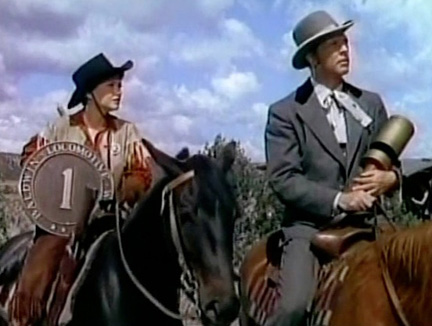 Anne Baxter carries the number plate, and Dan Dailey carries the whistle. Twentieth Century Fox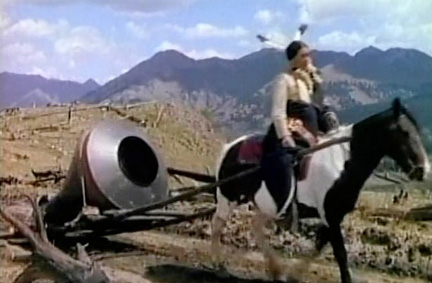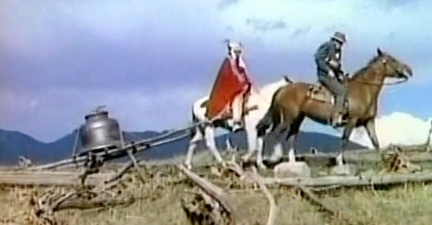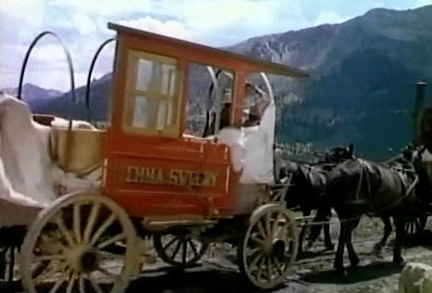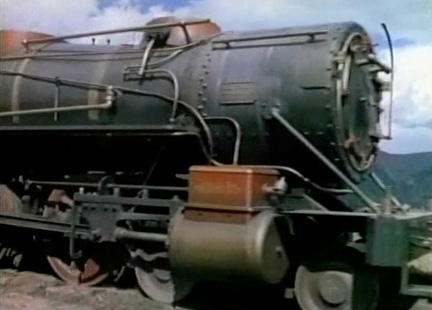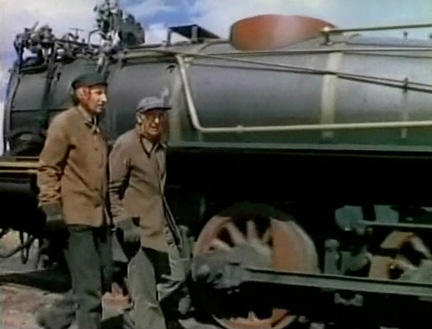 Arthur Hunnicutt (fireman) and Walter Brennan (engineer) sadly escort their stripped engine. Twentieth Century Fox


CHRONOLOGY OF THE MODEL
1949 (Jun–Jul): 20C Fox produced drawings for Emma Sweeny model.
Fox Prop Shop built model.
1949 (Aug 10): filming begins
1949 (Aug–Sep): San Juans filming lasted 6 weeks
1949 (Sep): 20C Fox produced drawing for engine and tender dollies
1949 (Oct–Nov?): model used at 20C Fox studio for camp scenes
1950 (April): movie premieres in Durango and Denver
: movie released
1960 or 1961: Ted Bower purchased model from 20C Fox for about $1000–1500, and placed it on display at a gas station on Culver Blvd, Culver City, California. His friend Bob Babcock (then in high school) painted it.
1963?: Ted sold model to Harvey Dick for his Hoyt Hotel, Portland, Oregon, but not moved yet.
1964–1970: Model leased and modified to resemble Sierra RR #3 (at Jamestown, California) as the Hooterville Cannonball for use in studio shots for Petticoat Junction.
1970. Model moved to Hoyt Hotel in Portland until it went bankrupt in 1972.
1972: Model sold to Sam Gordon of Sam's Town, a tourist and truck stop on Highway 50 near Placerville, California.
1978: Model sold to Rick Stevenson, Sacramento, California, and John Queirolo, Fiddletown, California.
1978 or 1979: Model sold to Ray and Cecil Finegold of Sacramento, California.
1980: Model donated to Amador County by the Finegolds, then repaired and painted over eight months and dedicated on October 25, 1980 as the Amador Cannonball.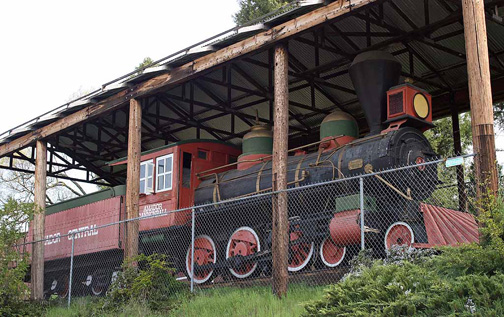 Model Emma Sweeny as the Amador Cannonball in Jackson, California, 2010. Stephen Peck
2010 (Oct 30) DRHS requests donation of Emma Sweeny from Amador County
2011 (Apr 26): Amador County Board of Supervisors votes to donate Emma Sweeny to DRHS in exchange for a donation of $5k to Amador County Museum.
2011 (Nov 4): DRHS moves Emma Sweeny into the locomotive pavilion in Santa Rita Park, Durango.