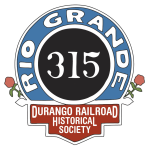 EMMA SWEENY
A TICKET TO TOMAHAWK


Right side of restored model locomotive at Santa Rita Park in summer 2017. Photo; George Niederauer
In August and September 1949 20th Century Fox filmed A Ticket to Tomahawk mainly in the Durango and Silverton area, followed by camp scenes at their Los Angeles studio. The star of the movie was the steam locomotive Emma Sweeny, played by the real steam locomotive RGS 20 in shots on tracks in Silverton, Animas Canyon, and on the old RGS trestle over Lightner Creek just west of Durango, with a full size model locomotive, built by studio craftsmen, standing in for scenes off the tracks at Silverton and Durango, on Molas Pass and in camp scenes at their studio. The real RGS 20 was restored and is located in the Colorado Railroad Museum at Golden. The model RGS 20 was restored and is located in Santa Rita Park at Durango.
Set in 1876, the movie is about getting a train and at least one paying passenger to the town of Tomahawk by a deadline a few days away to fulfill a contract and save the franchise. However, 40 miles of track are missing between Epitaph and Tomahawk, so the main structures of the engine and its tender are pulled over a mountain by a team of mules and many parts were removed and are carried by various means. A competing stagecoach line will do anything to prevent Emma Sweeny from arriving at Tomahawk before the deadline.
The movie starred Anne Baxter (deputy sheriff), Dan Dailey (salesman), Walter Brennan (engineer) and Rory Calhoun (outlaw). The cast included four dance hall girls, one of whom was then unknown Marilyn Monroe.
Petticoat Junction
In 1960 the studio sold the model Emma Sweeny to a private party. The model was leased for use in the TV series Petticoat Junction and transformed into the Hooterville Cannonball. Later, Emma Sweeny was on public display in Oregon and California.
Public Display        
In March 1980 the model was donated to Amador County, California. It was renamed Amador Cannonball and displayed in a park at Jackson in Amador County. Many original parts were missing.
In April 2011 Amador County donated the model to the Durango Railroad Historical Society, which restored it during 2011–17 to its original movie appearance. Fortunately copies of studio drawings were found, allowing an accurate restoration.
EMMA SWEENY ARCHIVES.
August 1949. Rio Grande Southern Locomotive #20 (RGS 20) at the Silverton depot, dressed up for its movie role as Emma Sweeny. Movie props include the funnel stack, headlight with elk antlers, long pilot (cowcatcher), and link-and-pin coupler. The locomotive, originally black, was gaily painted and had much artwork added. Photo; Colorado Railroad Museum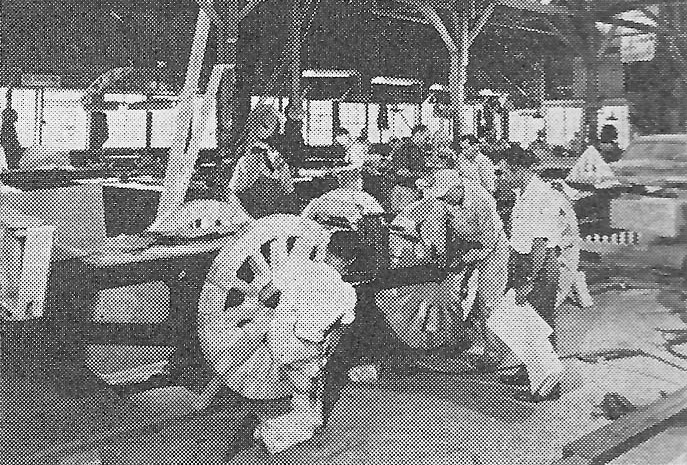 July 1949. Building the model Emma Sweeny in the studio prop shop.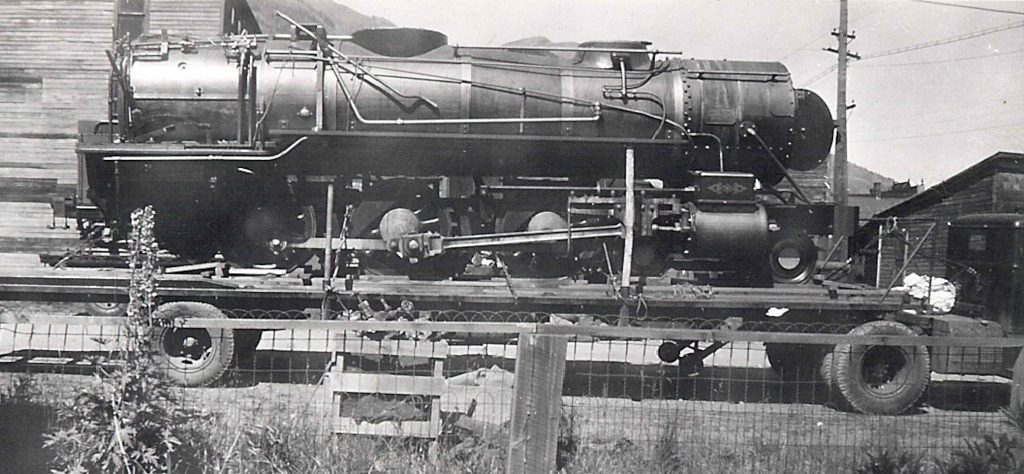 August 1949. One of the trailer loads of the partially assembled Emma Sweeny model and its parts arrives in Silverton for final assembly.
Photo: San Juan County Historical Society

The model Emma Sweeny is ready to be pulled down Blair Street in Silverton by a team of twenty mules.
Photo; San Juan County Historical Society
Filming with RGS 20 along the High Line in Animas Canyon. The flatcar holds the camera and its crew. Photo; Denver Public Library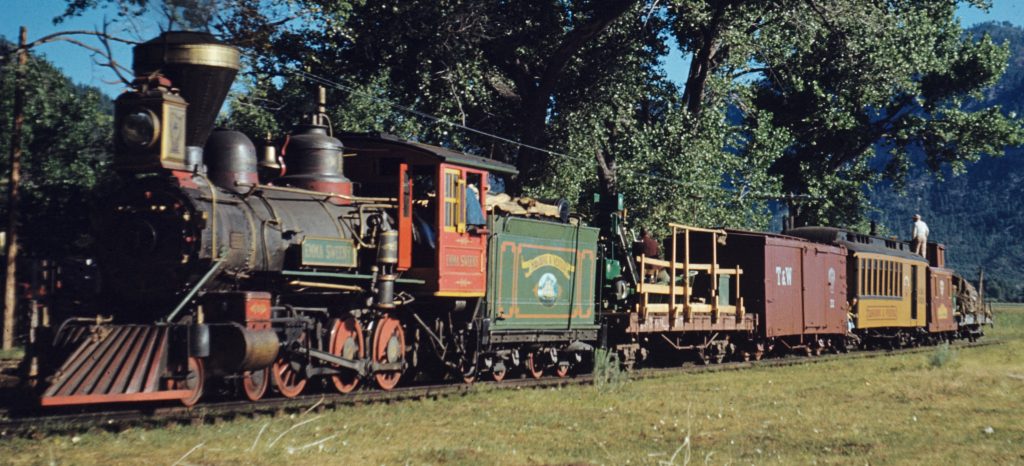 Emma Sweeny (RGS 20) train in Animas Valley with two flatcars for movie equipment and crew. Photo; Dick Reynolds collection, California State Railroad Museum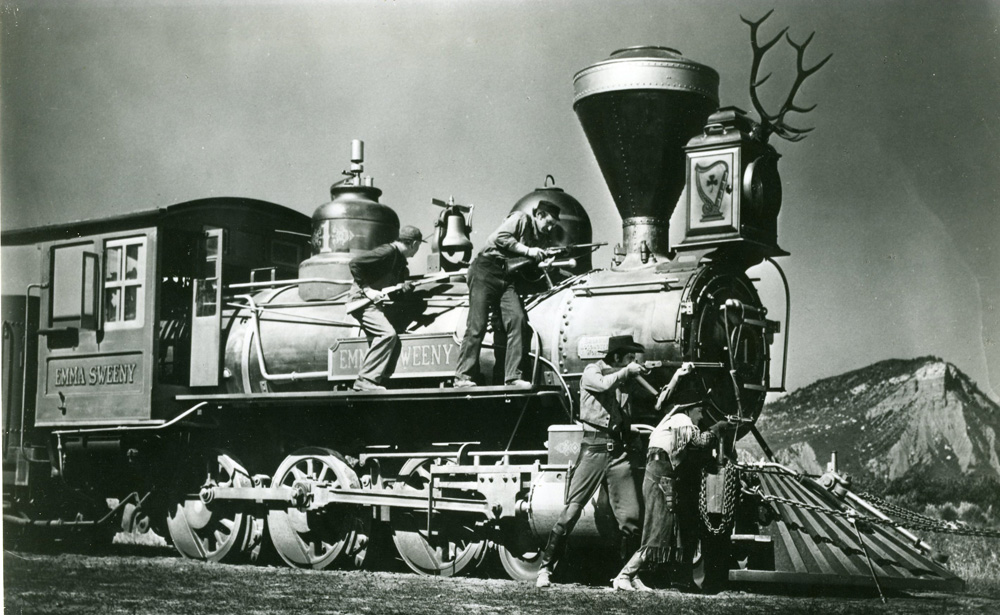 On the old airfield where Fort Lewis College now stands, during an Indian raid scene. Photo; Larry Jensen